Distributor Nozzles & New Refrigerants
I don't know what actually comes with a Heatcraft evap coil these days but as of 3-4 years ago they provided one for R22 and another one that covered everything else. It follows then, for any replacement refrigerants you would apply same nozzle as would be used for the original refrigerant…ie, R407C would use the R22 nozzle, R134A would use the one for R12, etc.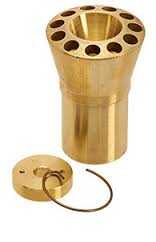 So for any future retrofits, as long as your new refrigerant is a replacement for the existing refrigerant then you wouldn't need to replace the nozzle. Similarly, if it's a different one but in the same group…not related to R22…then you should still be OK.
Then again, we're not including other refrigerants like R410A here, because that is currently used primarily as an air conditioning gas only and unless they increase the charge limits on flammables like R290 I doubt we'll see nozzles on those systems.
Check out p.7-8 in the Heatcraft Refrigeration Systems Manual for a good lesson in nozzles. It basically follows Sporlan's nozzle selection method, starting on p 6 of the Sporlan Bulletin 20-10, but it's a lot simpler.